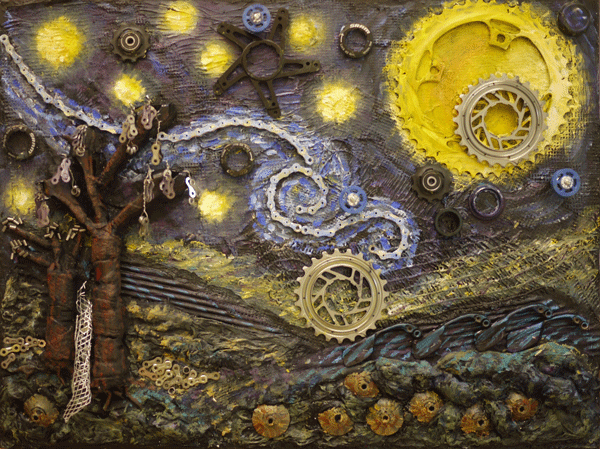 A Mixed Media Collage, comprising recycled materials, paper, plaster, hardware, oil and acrylic paints and over 5o bicycle parts.
I was invited to participate in the SRAM Parts Project where artists transform bike parts into art and the art is auctioned off. The proceeds help people in need through World Bicycle Relief.
For the New York City event, 95 noted artists will contribute original pieces created from SRAM components – including, for the first time, works of collage as well as sculpture. The artworks will be featured in a juried gallery exhibition, then sold at a gala live auction event.
The auction is scheduled for November 29th at the Cedar Lake Theatre in New York City. One hundred percent of the proceeds will be donated to World Bicycle Relief.
I was inspired by the fact that the money raised with this project would go to purchasing bicycles for African countries. Seeing as my roots are firmly embedded in the deepest of Africa, the Congo, and then South Africa, this was a natural calling.
This piece is a direct reference to Van Gogh's Starry Night.
The sky is the same all over the world but the landscapes, the vegetation and the habitats often differ. In this piece, there is a subtle reference to an African village. The trees are not those found in Van Gogh's world, they are the trees from the southern tip of the Namib Desert, where it is bone dry and devastatingly hot. These trees are known as the Quiver Trees. To evoke the name of this tree, I attached the "leaves" in such a way that if you were to touch them or to blow on them, as the wind might do, they might "quiver".
The night sky in Africa, as in all less populated areas, is resplendent with stars. Standing under such a sky, one realizes that we, humans, are but a small part of the same wondrous universe, under one God and one creation, where differences, nationalities, religion and color, all disappear.
This piece contributed to their funds by selling for $2500.